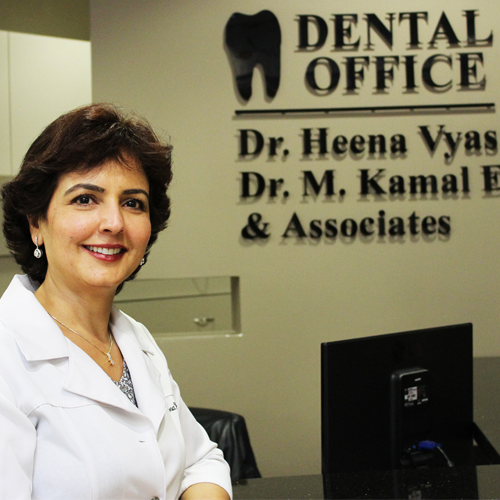 Dr. Heena Vyas
Dr Heena Vyas is a practicing dentist with over 20 years of experience and 5 state of the art clinics in the GTA. Dr. Vyas received her Canadian dentistry license from the Royal College of Dental Surgeons. Dr. Vyas continues to expand her horizons with experience in cosmetics and orthodontics. Her gentle approach and bubbly personality as well as precise and long-lasting dental work, has provided her with a long roster of returning patients. Dr. Heena, always eager to enhance her clinical skills, continues to regularly attend courses regarding all aspects of dentistry, as a member of the Ontario Dental Association (ODA), the Canadian Dental Association (CDA), as well as the Royal College of Dental Surgeons of Ontario (RCDSO) Dr.Heena's work is recognized and respected throughout the GTA. When not in the office, Dr. Heena is usually found keeping fit through Zumba, or travelling to exotic places with her husband and daughter.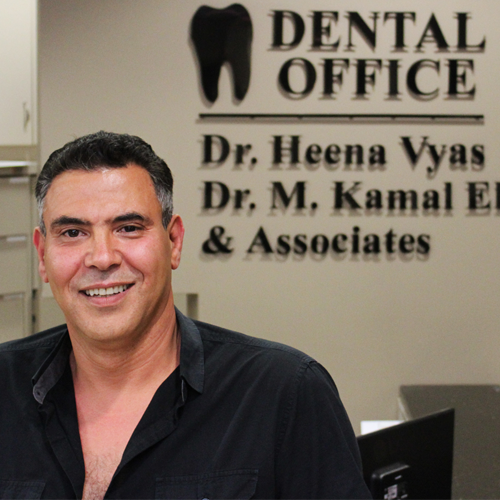 Dr. Mamdouh Kamal El Din
Dr. Mamdouh Kamal El Din, practicing Dental Surgeon for more than 20 years in GTA boost of four state-of-art practices in Brampton, Toronto, and Markham, Mississauga . He graduated in 1986 from the Dental School of University of Cairo. His 8 years as a respected dentist in Cairo, provided him with adequate experience for when he made his move to Toronto in 1995. Migrating to Canada in mid-nineties, he dedicated his initial years in procuring his Canadian Dental license from the prestigious Royal College of Dental Surgeons of Ontario. He has been working in GTA and has a special interest in surgical procedures like extraction of wisdom teeth. He is continuing his education in different fields of dentistry. He has successfully completed continuing education courses in Oral Surgery, Periodontal Surgery, Root Canal Treatment, and Implant. As well as 1 year residency in Cosmetic Dentistry at University of Buffalo.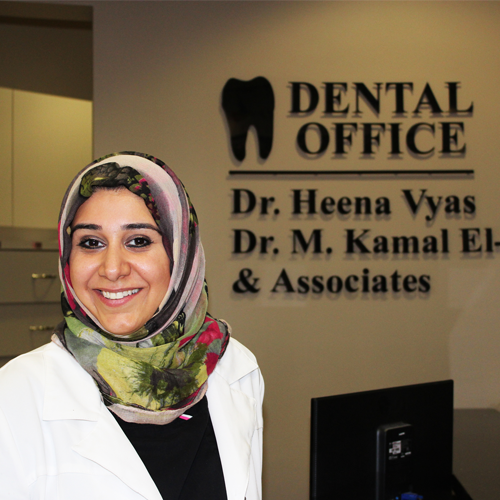 Dr. Rania Salih
Dr. Rania received her first Doctorate of Dental Surgery from Baghdad University of Dentistry in Iraq in 2002, after moving to Canada in 2002 with her family, she attended the University of Toronto where she received her second Doctorate of Dental Surgery in 2012. Since completing her second DDS, she has been working in multiple dental offices in Scarborough, Hamilton, Brampton, and Toronto as an associate dentist, she continues to upgrade her skills through various workshops and participations in continuing Education programs in order to ensure quality care for the clinic and the patient that she attends to. Her passion for dentistry is apparent due to her dedication to the profession and the steps She takes in order to maintain a level of knowledge and skill that is required in the field of dentistry. Also, prioritizing the patient above all and also trying her best to ensure that the patient leaves the clinic happy, with a healthy smile.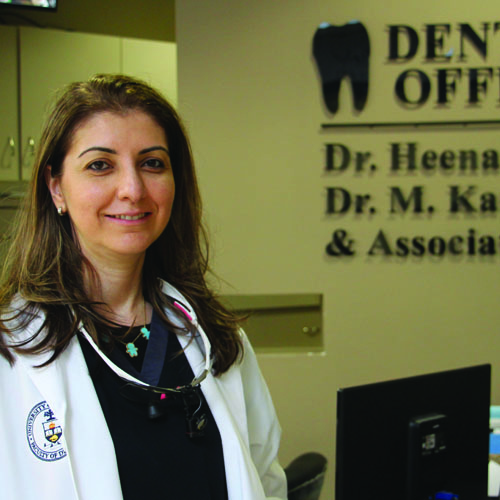 Dr. Dina Al Numani
Dr. Dina is a practicing cosmetic dentist with over 15 years of experience. She received her Canadian dentistry license from the Royal College of Dental Surgeon and she is a member of Ontario dental Association . She is trained and certified in Moderate conscious sedation (nitrous oxide and oral sedation). Dr. Dina enjoys practicing dentistry and works hard to provide high quality dental care. She strives to create a comfortable, friendly and family oriented atmosphere for her patients. Her kind and gentle personality ensures that each one of her patients experiences the most comfortable and relaxed dental treatment. Her gentle care makes even the most anxious patients at ease. Dr. Dina is continuously improving her skills by continuing her education through various courses. Her aim is to expand her knowledge in advanced dental technology to provide dental care that is technologically up to date. Aside from dentistry, she enjoys traveling, biking ,shopping and spending time with her family.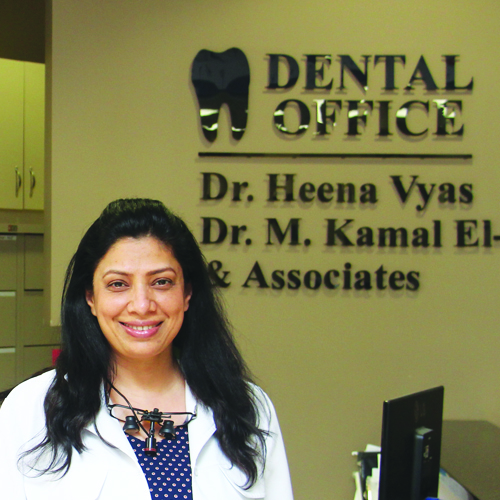 Dr. Sarika Vakade
After having successfully practiced Dentistry focused on Endodontics, Lasers and Implants Prosthetic in India for 15 years, Dr. Sarika Vakade got an opportunity to explore North American Dentistry; upon being granted Canadian Permanent Residency. Dr. Sarika Vakade is passionate about Endodontics and is a masters in Conservative and Endodontic Surjery from University of Gujarat, India. She has conducted several Hands- on workshops on "Rotary Endodontics" and written several articles in local journals on Endodontic. She also hold a Diploma in Laser from University of Vienna, Austria and practices Diode, Erbium and Nd Yag laser for several applications in Dentistry. She is a certified Aesthetic Dentist from University of New York, USA. Her interest are in continuously upgrading and updating current concepts and techniques in Dentistry, apart from being an avid reader of all kinda of books, loves swimming and exploring Canadian outdoors. Along with pursing Dentistry she has raised 2 adorable boys and is married to a loving Oral Surgeon husband. She is currently invited as a Guest Speaker at National Endodontic Coference, Gandhinagar to speak on " Regenerative Endodontics ".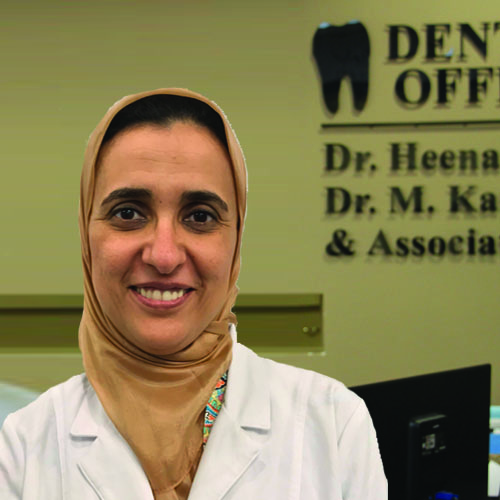 Dr. Azza Al Haddad
Dr. Azza Al Haddad received her Bachelor of Dental Surgery in 1992 with honour (first of class), from Cairo University, Egypt, Where she also finished her Master and PhD degrees in (Orthodontics) in 1998 and 2005 respectively. She received in 2006 a membership of Orthodontics form the Royal College of Surgeons Edinburgh (UK). She worked as a Lecturer at Orthodontic department, Faculty of dentistry Cairo University from 1998 till 2012. She also practiced as an orthodontist in private clinics for more than 15 years in Egypt and in Saudi Arabia. In 2012, Dr Azza and her family moved to Toronto where she obtained her Doctor of Dental Surgery degree with honour from the University of Toronto in 2015. On graduation she received 3 awards. Now, Dr Azza holds a license as a general dentist from the Royal college of dental surgery in Ontario. She works as an associate dentist in several dental clinics in GTA where she is taking care mainly of orthodontics cases. She is also working as a part time instructor at the Faculty of Dentistry University of Toronto, in the comprehensive care program (3rd and 4th year) and in the orthodontic seminars for the 2nd year. Dr Azza is a member of various organizations including Ontario Dental association, Canadian dental association, World organization of orthodontics, Saudi orthodontic association, and Egyptian orthodontic association. Dr. Azza has extensive experience in orthodontics. Dr. Azza lives in North York with her husband, her son and her daughter. She speaks English, French and Arabic languages. She enjoys travelling, reading and jogging.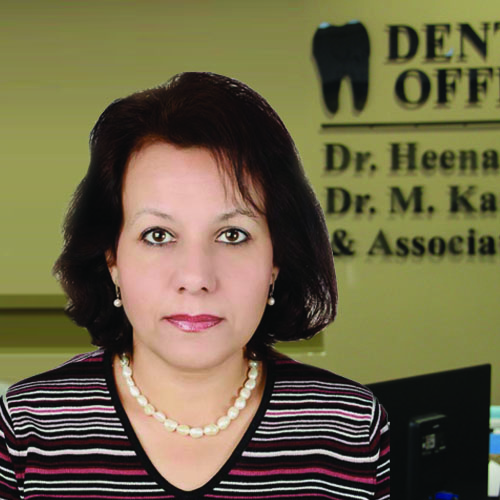 Dr. Manal M. A. Soliman
Dr. Manal M. A. Soliman is a dedicated and well-qualified dental professional, that graduated in 1989, from the faculty of Dentistry, Alexandria University-Egypt. She started her Residency in Restorative dentistry department Alexandria University in 1991, where she was responsible for teaching both graduate and undergraduate dental students. Dr. Soliman was passionate about her academic career together with private clinical dental practice. She obtained a Master's degree in restorative dentistry in 1996. She was then appointed as an assistant lecturer by Almenia University-Egypt. After starting her PhD study she was chosen by her University to receive a scholarship in the faculty of dentistry, University of Iowa – USA, where she spent two years working on her PhD and gaining clinical experience in restorative dentistry. Dr Soliman got her PhD degree in 2005. She arrived to Toronto in 2011, where she got immediately engaged in research in Restorative Dentistry Department at the faculty of dentistry, UFT, and completed her "National Dental Examination Board" of Canada in 2014. Since then Dr Soliman has been appointed as Clinical Instructor in UFT where she teaches students of 3rd and 4th year of dentistry. Dr. Soliman is applying all her advanced training that she gained throughout more than 20 years of experience together with her passion to dentistry to her work as an associate dentist in Toronto .